Intended as a platform-agnostic stable standard for future professional video and audio applications, MXF files are commonly used on Camcorders of three important corporations: Cannon, Sony and Panasonic. The footage shot onto a P2 card in DVCPRO (HD) with Panasonic Camcorders such as AG-HVX203, AG-HPX303, AG-HVX200, AG-HPX300 AJ-HPX3100, AG-HPX250, AJ-HPX3700, AG-HPX170, AG-HPX500, AG-HPX370, AJ-HPX2700, AJ-HPX2100, etc, are normally stored as MXF files - so-called P2 MXF files. P2 HD enables you to capture extraordinary high definition images in DVCPRO HD and AVC-Intra, which offers users cost-effective, proven intra-frame compression. Nevertheless, owing to not naturally supported by most media players and editors, P2 MXF still cannot be used widely and needs to be converted before imported for playing back on devices or editing with software.
As a masterpiece in the field of video editing software application designed by Apple Inc, iMovie takes an important role in enriching our life and increasing design variety. It can import video footage and photos to the Mac for users to edit the photos and video clips and add titles, music, and effects, including basic color correction and video enhancement tools and transitions such as fades and slides. It has a limitation of video formats to support MPEG2, DV, HDV, QuickTime Movie (MOV) and MPEG4 and AIC(Apple InterMediate Codec) MOV format is the iMovie perfectly supported format. Thus converting various formats video to iMovie AIC MOV format has become a strong desire.
Incompatibility of P2 MXF and iMovie make the invention of Tipard MXF Converter for Mac. As a versatile converter, it not only can convert MXF videos but also mainstream videos to popular devices and fashionable editing application supported formats. The following is a step-by-step way for users to transcode Panasonic P2 MXF files to iMovie AIC MOV format.
Step 1: Import P2 MXF recordings to the Best MXF Converter for Mac
Connect your Panasonic Camcorder to your Mac via USB with Apple date line. Launch MXF Converter for Mac and then click the "Add Video" button to add your MXF files to it. You are enabled to preview videos by double click the video files.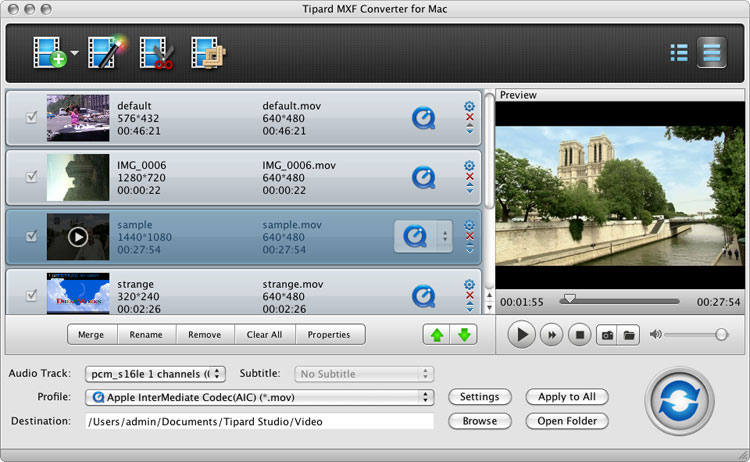 Tips:1. You should move the whole MXF folder to this MXF Converter for Mac not the single MXF video, or you can only view it without audio. (Each track of video and audio of P2 MXF files is stored in separate files. Thus steps must be taken to ensure related tracks are kept together when files are moved or copied.)
Step 2: Select iMovie Accepted Format and Set the Output Folder
Click on "Profile" and you will get a dropdown menu, then move you pointer to "iMovie and Final Cut Express > Apple Intermediate Codec(AIC) (*.mov)". Then you can set the destination of the output videos by clicking "Browse" icon as you need.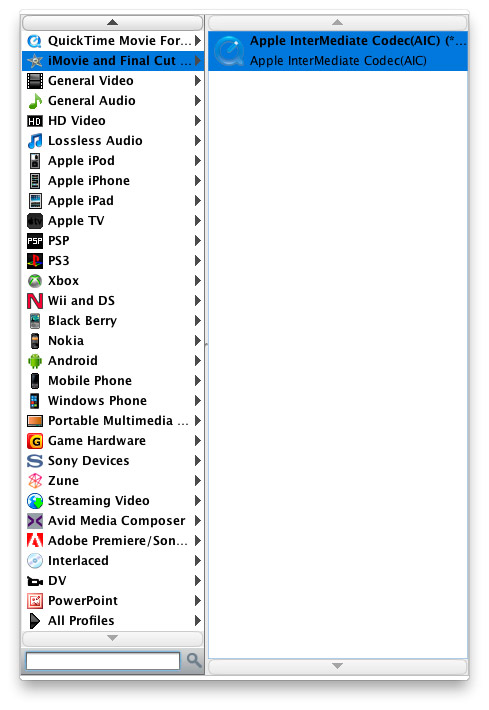 Step 3: Click "Settings" icon to adjust audio and video parameters.
Click the "Settings" icon and you can adjust codec, bitrate, frame rate, sample rate and audio channel in the interface according to your needs and optimize the output file quality.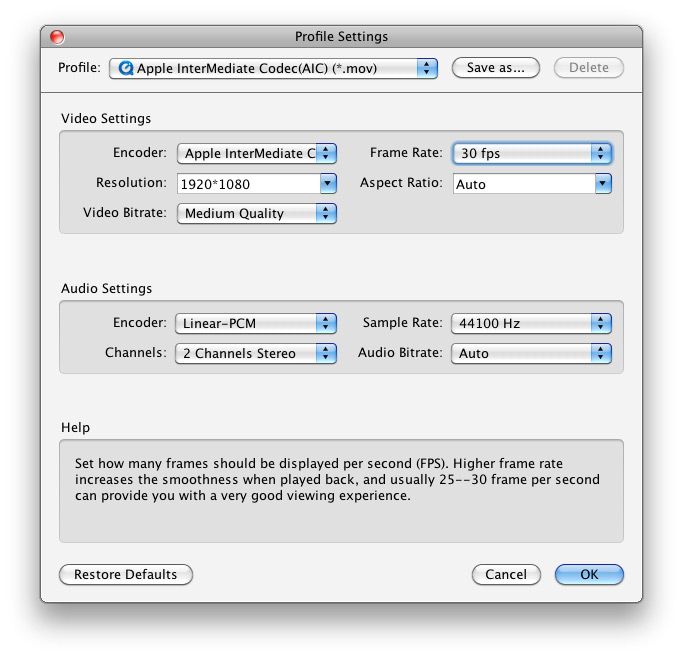 Tips:1.You'd better set the video frame rate as 30fps, resolution as 1920*1080 to keep the best quality for editing in iMovie. If you want to have a smaller file size but keep the good quality, you can change the resolution to 1440*1080.
2: You can simply edit your with trim, crop, adjust effect and add watermark. Disinterlacing your 1080i MXF videos is also available.
Step 4: Convert MXF to Adobe Premiere
You are allowed to load one MXF video many times, then choose different output format for each one. Then you can get multiple different output formats from the same source file. Click "Convert" button to begin conversion with fast speed.

When the MXF to iMovie MOV conversion process is 100% completed, you will be able to get the output files for iMovie by clicking on "import" button effortlessly. In addtion, the MXF Converter for Mac is also good at transferring MXF footages from Canon C300 to Final Cut Pro, including FCP 6/7 and FCP X, FCE, Avid Media Processor, Adobe Premiere, etc. You can change your Mac editing softwares without worries about the incomaptibility problem with MXF and your editing software. Please go to the Mac MXF Converter to get more info.