Privacy Policy
We hereby guarantee that we shall always protect our customers' personal information. The privacy of customers in our website has been given priority. We will do anything we can to safeguard our customers' privacy.
Collection of Personal Information
Once you've bought our products and services, please provide us with your correct personal information including your name, postcode, telephone number, e-mail address and so on. We will save your personal information, the reason and content of your e-mail requests to us and our replies to your e-mail requests with certain electronic protection techniques. In order to safeguard the personal information we acquire from the e-mail requests and phone calls you give us, we will use electronic communication approaches that provide the same protection.
Utility of Personal Information
In order to upgrade the versions of our products, improve product capabilities, deal with known errors and provide better services, we will utilize the personal information of our customers. We will not show the collected personal information of our customers to any third party with or without intention.
About cookies
The browser will save cookies to customers' hard disk when they use our website. They are used to provide certain information about our website when customers browse search engines, key words, newsletters and website notices. Once customers click our "Purchase" button, we will also use cookies in order to collect the overall analytic data.
Agreement of our Privacy of Policy
Once you've agreed to our Privacy Policy, you are free to use every resource on our website. Otherwise, please don't use our website.
Awards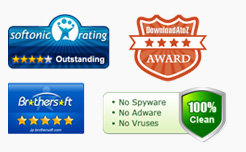 User Comments
I used Tipard HD Converter for Mac and I really like the snapshot function and preview button. -- Jerry
2013-1-24
I tried the video converter and the amazing speed and string quality almost shocked me. Thanks for the providing. -- Susan
2013-2-18
Support Center