The MP4 file format defines the storage of MPEG-4 audio, scenes and multimedia content using the ISO Base Media File Format. The AVC File Format defines the storage for the Advanced Video Coding (ISO/IEC 14496-10/AVC) standard data within files of the ISO Base Media File Format family.
MP4 is a container format that can store video, audio and subtitle data (as well as more depending on content). Since stores like iTunes uses this container format, and it is used with many mainstream devices, MP4 files have become more common. If you want to watch videos on MP4 compatible dvideces, Tipard Video Converter for Mac will be your best assistant. The following is a detailed step way for you to convert videos to MP4 format on Mac with Tipard Video Converter for Mac.
Step 1: How to add videos
Click the "Add Video" button on the toolbar to load your original video to the software. You can also add several video files by putting them into one folder and clicking the "Add Folder" button.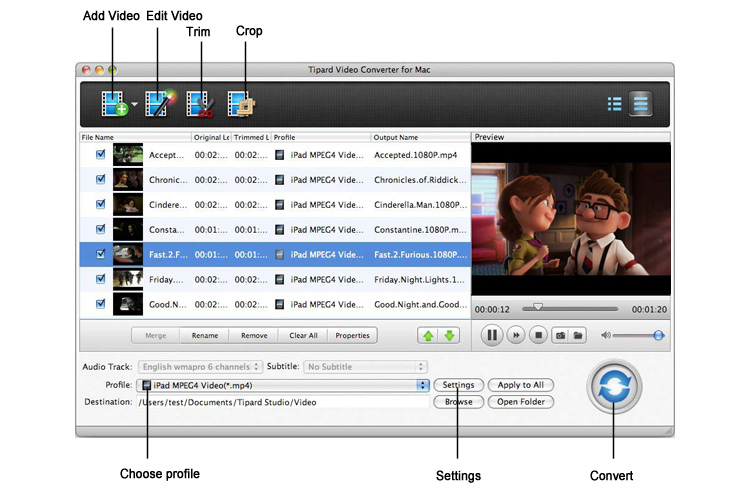 Step 2: How to edit videos
Numerous editing functions are provided for you to make a personalized video by yourself. This step is optional and you can skip it if there is nothing to edit for you.
With "Trim" function, you can clip video to several parts by setting the start time and end time as well as the video length; with "Crop" function you can cut down the black edge or enlarge a certain part of video screen; with "Effect" function you are enable to adjust video Brightness, Saturation, Contrast and so on.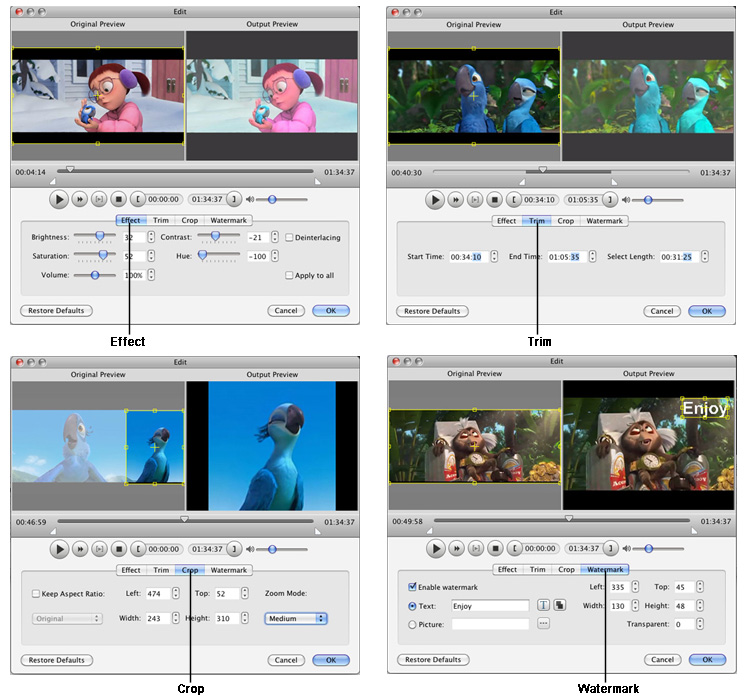 Step 3: How to choose format and settings
Click the "Profile" drop-down list to select MP4 format. Known as one of the most popular and widely used video formats, MP4 can be played with all portable devices.
Tips: "Apply to all" can be used when you convert more-than-one videos to the same format. You can set video parameters like video/audio bitrate, sample rate, resolution and so on. Users can also set detailed parameters in "Settings" which can help users improve the video/audio quality.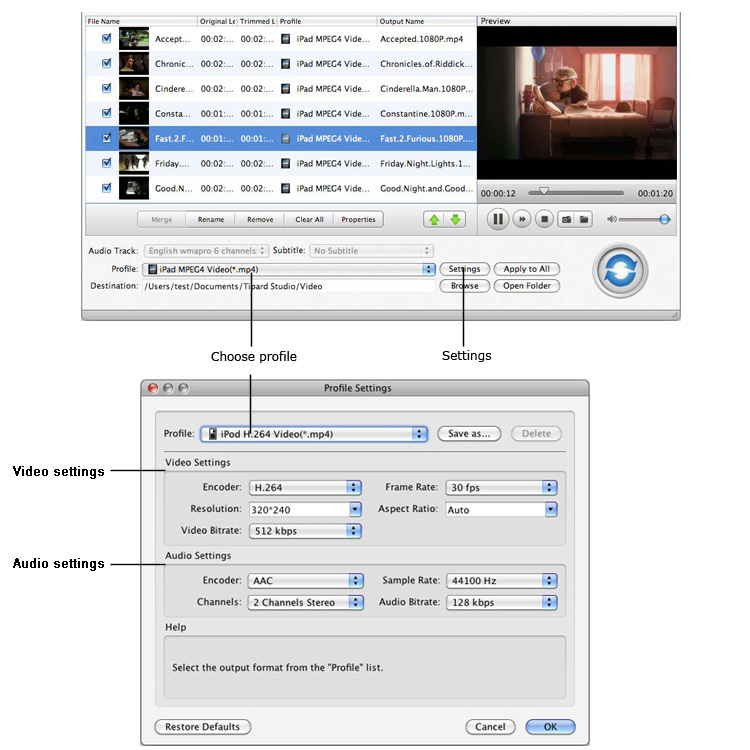 Step 4: How to convert videos
Finishing all above settings, users can convert videos with ease by simply clicking the "Convert" button and click "Open Folder" after conversion. During conversion, users can view the conversion screen by tick it. Besides, if you convert bundles of long videos at one time or you need to shut down the video without oversee it during conversion, you can tick the shutdown after conversion. Open folder after conversion is another convenient way for users to get the video easily without finding.